IDeACOM focuses on providing results-oriented VoIP communication solutions, backed by responsive & knowledgeable support, and always delivered at a fair price.
This has been our mission since day one, and we continue to deliver on it over 20 years later…
As a result, we have established long-term relationships with a few select outstanding vendor-partners who have developed impressive VoIP platforms and who foster the same attentive approach that inspires us.
If you're one of IDeACOM's many Zultys clients, you're going to be happy about this month's spotlight.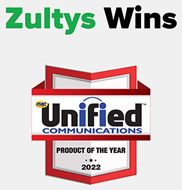 Zultys recently won the Unified Communications Product of the Year award (for the 5th time!) by our industry's premier authority.
Click here to read the announcement.
Yea, it's a BIG deal!
Why?
Because it's a crowded field.
And Zultys is definitely not just another low-end "me too" system that you'd find promoted in a crowded Google search for phone systems.
Sadly, those companies are a dime a dozen.
This prestigious award reinforces the fact that Zultys is an established, feature-rich VoIP platform with a long history of making a difference.
We are grateful to be an authorized Zultys partner since 2010, and very proud of the Zultys team for achieving this great accomplishment, again!
Zultys continually enhances their platform, so please contact your IDeACOM representative to confirm that your system is up to date.
Or you can also contact us to learn more about how IDeACOM and Zultys can help your organization.
We want to make sure you're getting the most out of your phone system, especially in this work-from-anywhere environment.
Zultys makes it super easy!
And hey, while we're at it, here are 2 great videos for using your ZAC desktop software:
• ZAC 8 Introduction – click here
• Moving from MXIE Operator to ZAC – click here
Hope you enjoy… and thank you for spending a few minutes with us.