It's comforting to know that we [all] have clients that love us, isn't it? And gratifying to feel the love in what you do for them. Whether it's through your services and solutions, the expertise you bring to the table, or just knowing they can always count on you for sound advice and support. And the more value that you continue to deliver, the more you begin to develop an unbreakable bond as that relationship grows stronger over time.
So this begs the question "How do we show our appreciation for the loyalty and support our clients' bestow upon us?" (aka: the "love").            A few things come to mind:
By being responsive to their needs.
By always looking out for their best interest.
By going above and beyond whenever possible.
By solving problems without hesitation or question.
By keeping them informed about new ways you can help.
And by being present, treating them like they're your only client.
It's not always easy, but it's always right.
And an interesting phenomenon occurs. Perhaps it's an offshoot of the axiom giving starts the receiving process. When you take care of your clients, they will take care of you. In the form of referrals, more business, acting as a reference, providing a testimonial, and it may even evolve into a friendship.
It's WIN-WIN at its best!
We have found that if you can find a way to make someone's life a little easier by taking care of your area of expertise like no one else can, you will become a valuable and trusted resource. It's not what you say that matters. It's what you do; consistently over time that makes the difference.
With that being said (or actually 'done'), I would like to thank each of our valued client's for your love and support, not to mention your business. I'd also like to thank our vendor-partners who enable us to do what we do best.
But I also need to brag a little by sharing a testimonial from a long-standing respected client, Steve Kalafer; Chairman of the Flemington Car & Truck Country family of dealerships and the Somerset Patriots Baseball Club.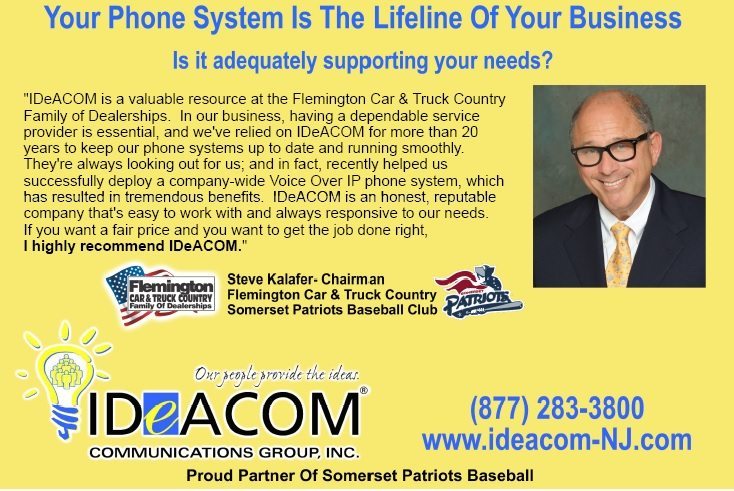 Thank you Steve for your partnership, and all that you and your amazing team do in support of The IDeACOM Network.
At IDeACOM, we strive every day to make our clients' lives easier by delivering exceptional value and support. And we are grateful beyond words for the opportunity to serve. Not to mention our sincere appreciation for your love, loyalty and recognition.
If you're in the NJ area and looking for a fun night and great baseball, go to www.somersetpatriots.com. TD Bank Ballpark was named Ballpark Digest's "Best Independent Minor League Ballpark" in the country as well as the Atlantic League Ballpark of the Year. And if you're in the market for a new vehicle, I highly recommend visiting www.flemington.com. You will be treated like family.
Let's close out with some Crosby, Stills & Nash: Love the One You're With!