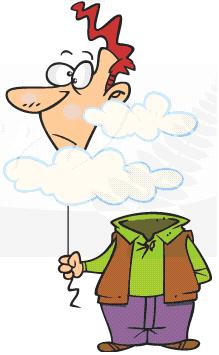 Until recently, if someone told you that your head was in the clouds, it carried a negative connotation. Like you weren't paying attention. Or you were daydreaming, out of touch, and living in a fantasy world.
Well I'm here to suggest that it's no longer such a bad thing, and you should in fact consider getting your head "in" the cloud. You know where I'm going with this, right? It's 2015 and very likely that you're already leveraging the cloud in some fashion, whether you realize it or not. Or maybe you're on the fence, and not sure if the cloud is right for you, or which cloud to engage with.
What cloud you ask? Why the voice & data cloud of course. Things like Google apps, GoToMyPC, Office 365, Remote Desktop, and Dropbox used to be less common but have now become mainstream. And how about iTunes and iCloud? Or the vast number of app's on your Smartphone. The bottom line is that you can't escape the cloud. So you might as well embrace it or consider moving to a desert island.
In our world at IDeACOM, which consists mainly of helping end users deploy voice over IP solutions for business, the choices have become overwhelming and downright confusing. According to every business owner I've ever spoken with over the past 25 years, one of the most important tools to their business is the phone system. But here's the irony. Why all of a sudden has the phone system become such a commodity, in such that it's minimized to a box of phones shipped with installation instructions for a monthly fee?
If you've been in business for a while, then you'll recognize the truth behind the old saying:
"You get what you pay for."
There's no free lunch, but there's always someone trying to get you to believe there is.
So how do you go about evaluating and selecting the best overall VoIP service? First, you need to research your options. Learn as much as you can about the technology and each vendor's offering. There's a huge disparity. VoIP is marketed and sold in so many different ways, so you need to understand the solution that each vendor is proposing so you can identify what's going to best fit your organization and your needs.
Now that you're in a position to understand what's been recommended, it's up to you to clarify the details. How will these solutions fit into your computer network? Do you have all of the necessary network infrastructure, or will you need to purchase additional equipment that hasn't specified in the proposal? Who is responsible, and for what pieces of the puzzle? Who's responsible for porting your phone numbers? What about fax and alarm lines? Is wiring going to be an issue? What happens if commercial power is lost for an extended period of time? Or if your Internet access hiccups or goes dark for half a day?
This is just a small sample of the important details. Unfortunately there is no "perfect" solution. But that shouldn't scare or stop you. It's intended to help you realize the need to minimize any potential risks that can impact your operation. VoIP technology is incredible, if it's deployed correctly. And for the majority of our clients, the DIY (do it yourself) model doesn't cut it. You're better served with the assistance of an experienced partner.
Now take the technology out of the equation for a minute and determine who or what company you feel most comfortable with. Who do you trust and want to do business with. A phone system is a big decision for most companies. Does the vendor have experience? Will they be there after the sale and support you when you need them? Can they demonstrate their competency?
Hopefully you can see that it's far too complex a topic and important to your business to be lured by someone trying to get your attention with a $19.99 per month price tag. Do your research, identify who you can trust, then roll up your sleeves and do your due diligence to make sure you're making the right decision.
And don't fall for the "brand" trap, thinking that it's your best choice just because the name is familiar. The landscape of the VoIP / Telecom industry looks nothing like it did 5 years ago. There are many legitimate companies that are fully capable, and sometimes more capable than a name you may recognize. The takeaway here is to keep an open mind.
So what part of the cloud do you want to be in?
Huh?
Well it's not an "all-or-nothing" solution as some would lead you to believe. In many cases, leveraging a piece of the cloud is all you need. You don't have to be "all in". Committing fully is not always the right approach. There are many variables to consider, so it's not so cut & dry.
At IDeACOM Communications Group, we represent a few world-class providers. Our VoIP solutions are capable of being deployed in a variety of configurations. This means that we'll help you determine which solution is best for you, and we'll deploy it in the most functional and economical sense. This point requires a discussion about expectations and design that's too lengthy to outline here. Which begs the question, how can you buy this online with a credit card and feel confident?
Should you install a pure cloud-based hosted VoIP solution, or is a premise-based IP-PBX a better design for your environment? Is there such a thing as a pure VoIP phone system that's not dependent on the Internet? What about a converged or hybrid system? A lot of choices, but not rocket-science. But you do need a knowledgeable resource to help you get to the right place.
And if you implement the right cloud strategy, you and your business will be on "Cloud 9"; and wouldn't that be cool!
Rely on the VoIP specialists at IDeACOM Communications Group. We can help you navigate the information super-highway.
By the way, our "VoIP Test Drive" that we announced last month is going very well. You can link back to it here, or contact us to schedule your Test Drive.