I feel compelled to share a book that I recently received from one of my vendor-partners – thank you Zultys! It's titled "Leadership and Self-Deception", and I highly recommend it!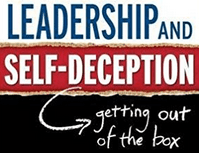 It's a story about a how a company propelled itself well beyond its competitors by focusing on one of the most basic human laws – treating people as people. It sounds like such a simple practice, and I can almost guess what you're thinking… Duhhh! Or, that's how we do things.
As I became immersed in this book, I was reminded of how our good intentions toward others – for example, to be fair, respectful, interested, supportive, and caring can easily be disrupted or derailed by our busy schedules and the stresses of life. Especially if we begin treating people as objects as a result of our "busy-ness" while in pursuit of our goals, instead of as people with similar hopes, dreams, fears, and challenges like we have.
This tendency to treat others as objects can affect all of our relationships. And it doesn't matter if they're professional or personal. Over time, the quality of our relationships will become positive or negative based on how we interact with others. It's The Compound Effect. And it all starts within each of us.
It's amazing to think about how expressing a little compassion for 1 person (someone else) can have such an incredible positive impact on 2 people (you and that someone else). And just imagine how this phenomenon could be magnified into geometric proportions if…
Well, you get the point.
Consider this:
The concept of self-deception (or self-betrayal) affects how we see and feel about others.
And this impacts how we deal with others.
Which in turn, affects how others deal with us.
Interesting… how it all starts with us.
"Leadership and Self-Deception" is written as a parable. It's a simple and quick read, but it will leave you with a lot to ponder, and perhaps some things to change.
So I highly encourage you to check it out. And if you like it, then you will probably also enjoy "The Anatomy of Peace" and "The Outward Mindset", which are 2 additional books from The Arbinger Institute.
Full disclosure: I am not a relationship expert, and I have no affiliation with The Arbinger Institute. I simply appreciate their work and like to recommend great resources.
Here's a quick list along with links to Amazon in case you're interested:
And one last tip. Are you having trouble finding enough time to read? Then I'd suggest giving Audible a try. It's a great way to consume information while you're on the go. So no more excuses, right?
I sincerely hope you enjoy.