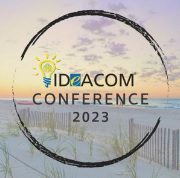 We recently attended the annual IDeACOM conference and it was a huge success!
This year's conference was held in Hilton Head, South Carolina.
It's a 3-day gathering that's not only packed with learning and education, but also plenty of time to socialize and deepen relationships that span over 20 years.
In fact, next year will be our 25th anniversary!
WOW, time flies…
As I recapped the events and reviewed my notes, I thought it would be worthwhile sharing some of the highlights with you.
The IDeACOM Network is the largest organization of independent VoIP and data companies in the US, with over 100 and growing strong! This meeting allows us to develop and enhance relationships with other IDeACOM members and vendor partners. And meet new ones too.
We learned about some of the newest trends in technology along with product development roadmaps from our award-winning vendor partners.
We participated in Mining Our Diamonds, which is our business roundtable mastermind and idea-sharing session that's always so informative.
In addition to our primary vendor partners that we rely on day-to-day, we discovered new technology solutions that we are able to deliver to our clients. This year I am most excited and interested in how we can help our clients:

Streamline and track subscriptions, including Microsoft 365, Google, CRM licensing, and more.

Implement a cost-effective cyber security initiative that's practical and secure.

Enhance voice and email communications with business texting.

Back in 1999 when The IDeACOM Network formed, the focus was all about telephone systems. Then as voice over IP (VoIP) started to take shape, that focus expanded to include data, networks, and broadband. Fast-forward to today and we're integrating Microsoft Teams, CRM platforms, SMS texting, and other unified communication applications into what was once referred to as a phone system. Amazing…
We are grateful and proud to be part of this amazing organization!
And we thank you for your business and continued support, because without you, we wouldn't exist.
Thanks for reading. Next month we'll continue last month's discussion about how to handle an outage with another valuable tip.
So stay tuned…
If there's anything we can help you with in the meantime, please contact your IDeACOM representative.